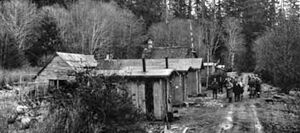 Oil City
 was an unincorporated community located in north-western 
Jefferson County
, 
Washington
 on the western coast of the United States. It was the site of large scale petroleum extraction during the late 19th and early 20th century.  It sits north of the
Hoh River
and is west of the community of
Hoh
.  The town can only be accessed by trail now days and nothing remains of the old town.
Frank W. Johnson and the Olympic Oil Company filed a plat for Oil City at the mouth of the Hoh River in Jefferson County on December 7, 1911. It was planned to be a deep water oil port and because of that dream, many lots were bought on the hopes of oil money. A first addition to Oil City plat was filed on January 30, 1920, by the Olympic Oil Company of Washington and A. W. Lane of Evanston, Illinois. A newspaper was created called the, Oil City News, but published only three issues promoting the new town.
In January 1920, there were wells being drilled by Standard Oil Co., Oil City Utilities Co., Washington Oil Co., Settle Oil Co., Milwaukee Oil Co., Indian Oil Co., Jefferson Oil Co., and Kitsap Oil Co. How many of these firms actually sank a bit into the ground is unknown.
Oil City at it's peak had a store, a cannery, a few buildings, and a cookhouse. A road was built from Highway 101 in 1931-32.  It is reported some wells got up to 20 barrels a day, and some estimates were that if dug deep enough, some wells could gather 1,000 barrels a day.  Eventually drilling stopped and by the mid to lates 1930's, mostly everyone had left.
During World War II, The Coast Guard had a base set up using some of the old remaining buildings from Oil City, where they conducted patrols watching for enemy planes of landings.
Geography
Edit
To the west is the Pacific Ocean while to the east is Hoh. Forks is north and Ruby Beach is south.
Community content is available under
CC-BY-SA
unless otherwise noted.