Hover was a town in Benton County, Washington. Only a few foundations and old roads can be seen. Most of the town was flooded when Lake Wallula was formed. The modern cluster of residences today are along Meals Road.
The town of Hover was named after Herbert Hover who purchased 12,000 acres of land southeast of Kennewick around the turn of the century. The town was platted in 1905, with the first post office also arriving that year. Mr. Hover had 18,000 brochures printed extolling the virtues of the area for settlement and distributed them nationwide.
Hover was primarily a farming town, and it was irrigation that made intensive farming possible. Without the construction of the intensive irrigation system, began in 1888 by the Yakima Irrigation and Improvement Company, there would probably have never been any settlement in the lower Columbia Basin.
In October of 1905, the Yakima Herald wrote the following:
The town of Hover thirteen miles down the river from Kennewick is, I believe, one of the most promising in that section. It is ideally located on an immense alfalfa field, which has a gentle slope toward the river. Just now with its beautiful greensward, it is indeed pretty. Our people are planning to erect a Presbyterian Church at that point. There are a number of business houses planned, with dwellings and sidewalk improvement. Hover bids fair to capture a large share of the lower Horse Heaven trade.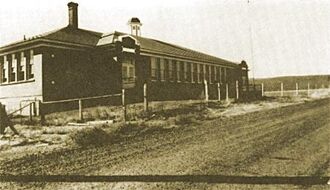 By 1907, Hover had a population of 300 and possessed wooden sidewalks, a new school, livery stable, a 32-room hotel, opera house, saloon, railroad depot, grocery store, blacksmith shop, church, and post office. Unfortunately, in 1910, a devastating fire struck the town.
The Opera House was destroyed by fire in 1913. Most of the buildings that were destroyed by fire never were rebuilt, and Hover began to slide into a long decline, culminating in 1954, when the government bought much of the land in Hover to make way for the McNary Dam. The rising waters of Lake Wallula ended up submerging most of the old town.
Today, little exists of the original town, except for a few foundations and the remnants of the old canal used to bring irrigation water to the area. Further west away from the Columbia River, modern homesteads exist.
Geography
Edit
Finley and Kennewick are northwest. The Columbia River and Attalia and Wallula are east. South is Yellepit and Port Kelley. West is Highland.