Grisdale
or
Camp Grisdale
, was a logging town in
Grays Harbor County
,
Washington
. Today nothing remains of the town except some old things left behind, some foundations, and a rusted out truck. Grisdale was the last company owned logging camp in the lower 48 states. There was a reunion on August 14, 2005 for everyone who resided and worked at Grisdale or
Camp Govey
. It is located at the south end of the
Olympic Mountains
.
The area receives upwards of 160 inches of rain annually. The climate is mild in the summer and cold in the winter.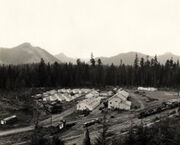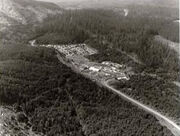 Grisdale was a company town owned by the Simpson Timber Company. 
The town opened in 1946, complete with a two-room school, a mess hall that provided meals, and company store. It was built on the concept of "sustained yield" logging instead of "cut and run." Workers could rent a home for $20 to $30 dollars a month with utilities included. By 1980, it was still less then a $100 dollars a month to rent a home. There were 52 single family homes built. Recreation included weekly films, bowling, covered hors hoe pits, pinochle, poker, dances, music, and a camp newspaper. Groceries, dry goods, and supplies at the company store were kept the same price as if the items were bought in a store in 
Aberdeen
 or 
Montesano
.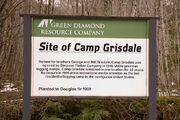 The company store closed down in the 1960's when it became too expensive to operate. More and more 
people were bused into the community, but still, several people lived in the homes.
By 1982, the bunkhouses was closed as well as the cookhouse. The remaining families were told to relocate by the next school year. The camp was shut down fully in 1986 and razed in 1988.