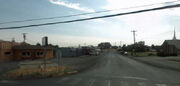 Finley is a census-designated place (CDP) in Benton County, Washington. The population was 5,770 at the 2000 census. It is located to the southeast of the larger city of Kennewick.
The town of Finley was named after George Finley, a poor Nebraska farmer. In 1902, he and his family moved to their 40-acre land holding south of Kennewick. There, they lived in a tent while clearing their land for farming.
Finley slowly grew into a town of 25 people by 1908, when the post office was established. By 1910, the Spokane, Portland and Seattle (SP&S) railroad helped bring prosperity to the community resulting in a new hotel, store, barbershop, two lumber yards, a hardware store, depot, and school.
Finley eventually absorbed many people migrating from the neighboring town of Hover, which was slowly dying. Hover died in 1957 with the construction of the McNary Dam, but Finley still lives on.
During the 1950s, there was a major population increase when the neighboring town of Hover was relocated to Finley, due to the construction of the dam which allowed the local school to be River View High School. Fresh water sources and access to established rail lines and power grids in 1950s and 1960s have prompted some manufacturing and chemical plants who have remained in town ever since.
Geography
Edit
Finley is located southeast of Kennewick and borders the Columbia River.
According to the United States Census Bureau, the CDP has a total area of 14.6 square miles (37.7 km²), of which, 11.5 square miles (29.8 km²) of it is land and 3.0 square miles (7.9 km²) of it (20.88%) is water. North across the Columbia River is Burbank, Ainsworth Junction, and Pasco. To the northwest is Kennewick. West is Highland. To the east across the Columbia is Attalia and Humorist. Southeast is Hover, Wallula and Yellepit.
Finley's climate is warm during summer when temperatures tend to be in the 70's and very cold during winter when temperatures tend to be in the 30's.
The warmest month of the year is July with an average maximum temperature of 89.30 degrees Fahrenheit, while the coldest month of the year is January with an average minimum temperature of 28.00 degrees Fahrenheit.
Temperature variations between night and day tend to be moderate during summer with a difference that can reach 28 degrees Fahrenheit, and fairly limited during winter with an average difference of 15 degrees Fahrenheit.
The annual average precipitation at Finley is 8.01 Inches. Rainfall in is fairly evenly distributed throughout the year. The wettest month of the year is December with an average rainfall of 1.16 Inches.
Healthcare
Edit
Kennewick General Hospital is located six miles away in Kennewick.
The Benton County Sheriff's Office services Finley.