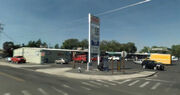 Clarkston Heights-Vineland is a census-designated place (CDP) in Asotin County, Washington. It is part of the Lewiston, ID-WA Metropolitan Statistical Area. The population was 6,117 at the 2000 census. The community is 88.8 miles from Spokane and 197 miles from Boise, Idaho. It is a suburb of Clarkston.
The City of Clarkston was officially incorporated on August 14, 1902. Before becoming an official town, the area was called Jawbone Flats. The name Clarkston is a reference to William Clark, of Lewis and Clark fame. Lewiston, across the Idaho state line from Clarkston, is named for Meriwether Lewis, and is the larger and older of the two cities (founded in 1861).
Geography
Edit
According to the United States Census Bureau, the CDP has a total area of 5.9 square miles (15.4 km²), all of it land.
Clarkston Heights-Vineland's climate is warm during summer when temperatures tend to be in the 70's and very cold during winter when temperatures tend to be in the 30's.
The warmest month of the year is July with an average maximum temperature of 87.60 degrees Fahrenheit, while the coldest month of the year is January with an average minimum temperature of 28.00 degrees Fahrenheit.
Temperature variations between night and day tend to be moderate during summer with a difference that can reach 28 degrees Fahrenheit, and fairly limited during winter with an average difference of 13 degrees Fahrenheit.
The annual average precipitation at Clarkston Heights-Vineland is 12.74 Inches. Rainfall in is fairly evenly distributed throughout the year. The wettest month of the year is May with an average rainfall of 1.56 Inches.
The Lewiston Tribune, from Idaho provide local news. Also television networks from Idaho provide local news.
Clarkston has the Tri-State Memorial Hospital serving the city and county. Saint Joseph Regional Medical Center is located in Lewiston, Idaho across the river.
The Clarkston Police Department and Asotin County Sheriff's Office.