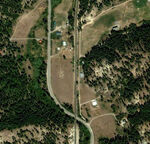 Chumstick is a community in Chelan County, Washington. The community surrounds Chumstick Road, and can be seen easily by aerial photography. It is a residential community with no services. One can easily pass through Chumstick without realizing it.
Chumstick is a small community that popped up south of Plain.
Geography
Edit
The community is surrounded by the Wenatchee National Forest and the Cascade Mountains. It is located along State Route 209, south of Plain and north of Leavenworth. The Chumstick Road connects the community to other areas, and is the only direct way, unless taking forestry roads that can be unreliable in winter. The town is within the Beaver Valley.