Asotin is the county seat of Asotin County, Washington. The population of the city was 1,095 at the 2000 census. It is part of the Lewiston, ID-WA Metropolitan Statistical Area. In 1990, the population was 981 people.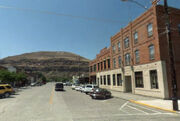 History
[
]
Assotin City was platted in 1880. There were actually two Asotins in the early years: Assotin City, located on the southern end of present day Asotin, and the town of Asotin, just to the north, on the southern flank of Asotin Creek. Asotin was platted in 1881 and by 1883 had outgrown its rival to the south; in February 1886, Assotin City changed its name to Asotin and within a year the merger was complete.
Asotin County was formed from the eastern portion of Garfield County in 1883. On October 20, 1883, the Washington Territorial Legislature voted to create Asotin County, and Territorial Governor William Newell (1817-1901) approved the law on October 27. Asotin County "officially" came into being on November 12, 1883.
Asotin grew steadily during the 1880s and 1890s. Wheat and later barley were early crops, followed by cattle farming. Plum, peach, and especially apple orchards were also planted and actively maintained.
Geography
[
]
According to the United States Census Bureau, the city has a total area of 1.2 square miles (3.1 km²), of which, 1.0 square miles (2.7 km²) of it is land and 0.2 square miles (0.4 km²) of it (12.40%) is water. Asotin is located about five miles from Clarkston, the commercial center of Asotin County.
Asotin is about 93.0 miles from Spokane and 193.0 miles from Boise, Idaho.
Climate
[
]
Asotin, WA climate is warm during summer when temperatures tend to be in the 70's and very cold during winter when temperatures tend to be in the 30's.
The warmest month of the year is July with an average maximum temperature of 87.60 degrees Fahrenheit, while the coldest month of the year is January with an average minimum temperature of 28.00 degrees Fahrenheit.
Temperature variations between night and day tend to be moderate during summer with a difference that can reach 28 degrees Fahrenheit, and fairly limited during winter with an average difference of 13 degrees Fahrenheit.
The annual average precipitation at Asotin is 12.74 Inches. Rainfall in is fairly evenly distributed throughout the year. The wettest month of the year is May with an average rainfall of 1.56 Inches.
Infrastructure
[
]
Medical
[
]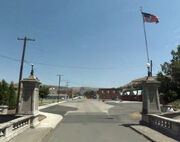 Asotin has to go five miles to Clarkston for medical service. Tri-State Memorial Hospital is located in Clarkston and Saint Joseph Regional Medical Center is located in Lewiston, Idaho.
Crime
[
]
Asotin has the Asotin Police Department. It is located on 121 Cleveland St., PO Box 517 Asotin, WA 99402.
The Asotin County Sheriff's Office is located in Asotin.
Transportation
[
]
Hawks Run Airport is located in Asotin. The closest railway station is located in Lewiston, Idaho.